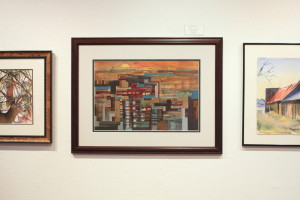 D'Ann Bourne Art
D'Ann Bourne Art is a collection of the art work of a very special person. That person is my lovely sister!! This website is a place to display some of her artwork and honor her.
In the
Artist section

you can learn more about D'Ann Bourne and her passion behind her art.
In the
Artwork section

you can view some of her artwork.  There are a couple of galleries using non-flash type software there are also a couple of flash galleries.
In the
Blog section

you can read some of what is going on or some musings of her or Joe.
Enjoy and if you would like more information please contact her at artist@dannbourne.com
If you would like to see about the possibility of purchasing any artwork or inviting her to display in your gallery contact her at info@dannbourne.com
If you have any trouble contacting her, please contact her business manager Joseph Bourne at joe@dannbourne.com
Tell her Bubba sent you and she may give you a discount.  If not she will probably tell you a funny story.
Love you D'Ann